Remote job for seniors at home
At-home jobs for seniors can be a great way to supplement retirement income. Whether you are looking to make a bit of extra cash or you want to find a part time job, there are many jobs that accept retirees and allow you to work from home. In fact, working from home is becoming increasingly popular as an alternative to the traditional 9–5 office job; particularly if you have a busy life and do not have the time or resources to commute.
While some jobs for seniors do require a college degree, most of the options we discuss on this page will only require very minimal qualifications. If you have been looking for entry level job opportunities from home, look no further!
We are going to discuss several questions that one may have about jobs for seniors at home.
Working remotely can be an outcome for seniors
Senior citizens often have their financial obligations covered, such as a mortgage or rent and bills. But that does not mean you should sit at home doing nothing all day. And you're not the only senior that thinks this way. The U.S. Census Bureau reported that a few years back, in the US, there were 4.6 million men and 3.7 million women in the labor force who were over 65 years old. A total of 5.3 million full-time workers were 65 or older.
The fact that you don't have the direct need to work as a retiree makes it easier to choose a job that you like doing, and allows you to set your own hours. There is no need to leave the house because jobs at home can be done from almost anywhere with an internet connection and a computer. Furthermore, you don't need to worry about driving in bad weather or rush hour traffic.
Since remote work is done at home, there are no distractions from coworkers or office politics. If you need to take a break to run an errand, then you can do so without interrupting your productivity for the rest of the day. This convenience can definitely benefit seniors who might have difficulty getting around. 
Apply Now and Become a Chat Operator!
Choose your own time and place to work
No prior work experience required
Work from a mobile, tablet, or PC
Interested? Experience a unique freedom and complete flexibility in your workday. If you're looking for an easy job that allows you to work on your own terms, this is an opportunity you shouldn't miss!
Start Your Application Process
Applications are handled within 24h
How can you stay focused when working from home
No matter how experienced you are in life: when having a job to do at home, it's easy to fall into all kinds of distractions, procrastination and work avoidance. Think of stuff like lying in bed all day long because you don't feel like working. Or doing chores around the house rather than working at your desk.
These are just a few examples. But while the temptation is high, it's best if you try to keep work and private life separate when having a work-from-home job. Here are some tips on how to stay productive:
Set a schedule of work times

Set up boundaries between work and personal time

Choose the right location to work

Limit access to distracting websites or personal email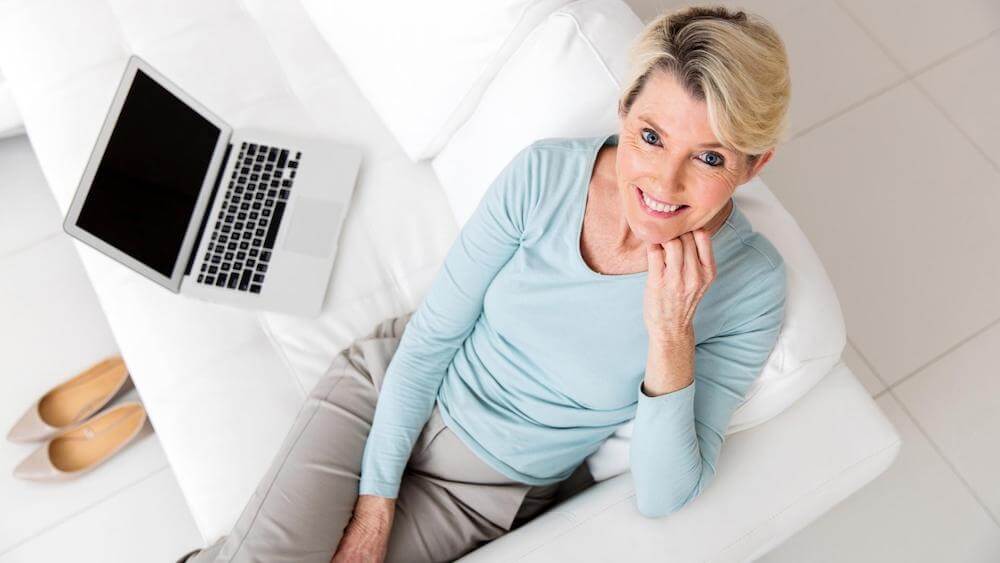 What are some of the best jobs for seniors?
There are some great options for work at home jobs for retirees. You can opt to do contract work for an existing company or start your own virtual business. Not everyone wants to work independently and some prefer the structure of a job or career.
That is why there are so many options for those who want to work from home as a traditional employee. These online positions can provide great flexibility with hours and location. The most important thing is having a strong internet connection and a computer. Examples include:
Data entry operator

Customer service agent

Virtual assistant

Resume writer

Chat operator
How popular are at-home jobs among seniors?
Remote online jobs for elderly people are very popular because they offer all of the benefits of working from home, such as increased flexibility and lower cost. Research done by JPMorgan Chase & Co. found out that there is an increase in the number of seniors supplementing their income through online gigs.
Not everyone is interested in completely doing contract work or freelancing because there are some people who just need something stable, with set hours each week.
Many companies have now realized how valuable it is to hire workers that can complete jobs from home. Fortunately, the vast majority of these job opportunities are for online work and not physical jobs. This makes it easier for seniors who want to start a new career or build on the knowledge they already possess.
How Remotely4u can provide retirees with online work
At Remotely4u we recruit all kinds of people that would like to work as chat agents. Our clients are operating online fantasy chat platforms, where good employees are seen as the backbone of the organization.
Their text chat operators help thousands of lonely people every day to have a more meaningful everyday life by letting them express themselves online with anonymous characters.
We are always looking for talented remote chat operators to join the team. You can work as little or as much as you want. The income is based on how many messages you handle.
You can encounter chats about everything from everyday life, such as sports or the weather, to dreams, fantasies, and more explicit topics. An open mind and imagination will be needed!
As a chat agent you will:
Be 100% anonymous (text only, so non-voice and no video)
Work independently and with full flexibility
Earn more depending on how often you work
Help those who need someone to talk to
Interested in the remote job we have to offer?
What kind of remote work will suit you?
In conclusion, when looking for work, it's important to look beyond the traditional options. Some of the best jobs for seniors over 60 are waiting to be found in careers that you may have never considered before. In fact, many people who decide to work from home find this a better fit than working in an office or retail environment because it gives them more freedom and flexibility.