Are work-at-home jobs any good for introverts?
Are you one of the many introverted people in this world? As it turns out, an estimated 25-40% of the US population is. And have you ever experienced issues while working in crowded office environments? If so, working an at-home job might be your answer.
There are many work-from-home job opportunities for introverts. In this article, we explore some of the benefits of working at home for introverts and how to help you remain productive as you find your perfect remote job!
The benefits of work from home jobs for introverts
As an introvert, you may find it difficult to work in a traditional office setting. Coworkers can be loud, sometimes very demanding and drain your energy levels. And there are some introverts who just don't like being around people all day long. With a work-at-home job, you will be able to work on your own without any distractions or interruptions!
The benefits of a work-at-home job are endless for introverts. Many people feel that they can't enjoy the traditional office setting because it requires them to be around tons of other people all day long, which is stressful and somewhat uncomfortable for those who aren't social butterflies.
Introverts typically do not work well in these types of settings and prefer to work by themselves without distractions or interruptions.
Work at home jobs offer conveniences like working in your own space, having flexible hours, or being able to work on the go! With a work-at-home job, you will be able to enjoy the comfort of your own home while working.
These jobs can also help introverts who like minimal social interaction find something that will work for them. Fully remotely, meeting up with others to work in the same room, or anything in between.
Apply Now and Become a Chat Operator!
Choose your own time and place to work
No prior work experience required
Work from a mobile, tablet, or PC
Interested? Experience a unique freedom and complete flexibility in your workday. If you're looking for an easy job that allows you to work on your own terms, this is an opportunity you shouldn't miss!
Start Your Application Process
Applications are handled within 24h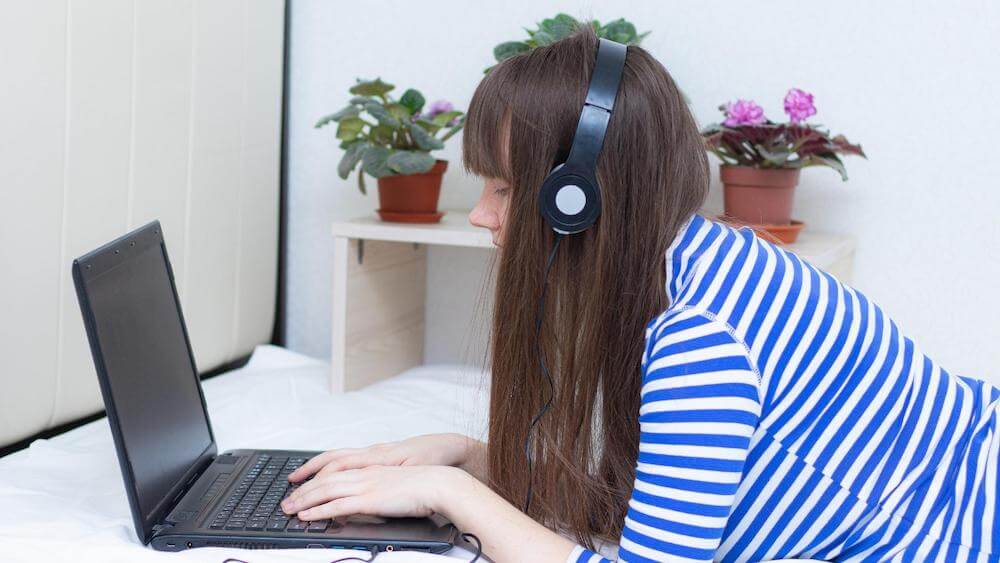 How to remain productive as an introvert remote worker
Introverts work well in their own space, so working at home is a great option. But maintaining productivity while working from the comfort of your bedroom can be tough. Here are some tips on remaining productive as an introverted work-at-home employee:
Hide away distractions
Hide all the things that could distract you. If you have kids, send them to stay with family or friends during these hours if possible! Arrange for someone else to pick up any packages that may arrive and make sure bills aren't visible when they come through the mail slot.
Put distraction items like phones and tablets into another room where they won't bother you. You might even try wearing headphones after a while at work, in case you start to feel overwhelmed by the noise coming from whatever room your workspace is located in.
Use a quiet work area
A work-at-home job can be done outside the house, but an introvert needs to make sure their work environment isn't too distracting or noisy. Find somewhere away from people and where there's minimal distractions like noise and activity (besides what you create yourself). If it helps, try wearing headphones later on when you get used to working this way!
Take breaks as needed
Introverts need time for themselves throughout the day. Taking short mental health breaks every few hours gives them ample opportunities for alone time while still being productive with their work tasks. Do something that makes you happy during these little break times and then get back to work!
Have the urge to work fully from home? Check out Remotely4u's at-home job!
We currently have a job vacancy for text-based chat operators.
At Remotely4u we recruit people that want to work as chat agents. Our clients are operating online fantasy chat platforms, where good employees are seen as the backbone of the organization.
Their text chat operators help thousands of lonely people every day to have a more meaningful everyday life by expressing themselves online with anonymous fantasy characters.
We are always looking for talented remote chat operators to join the team. You can work as little or as much as you want. The income is not a fixed fee, but is based on the amount of messages you handle.
You will chat about everything from everyday life, such as sports or the weather, to dreams, fantasies, and more explicit topics. An open mind is needed.
As a chat agent you will:
Be 100% anonymous (text only, so non-voice and no video)
Work independently and with full flexibility
Earn more depending on how often you work
Help those who need someone to talk to
Interested in the remote job we have to offer?
In conclusion
The work-at-home job might not be for everyone, but it can work well for introverts because they require less distractions than their extroverted counterparts. They don't need the same level of interaction with people that an outgoing personality type does and work-at-home jobs allow them to focus on what needs to be done without too many interruptions. By using these tips, you'll be able to maintain productivity even while working from your quiet place in the comfort of your own home!
You might work best when you work in your own space. Therefore, remote jobs are a great solution for introverted employees because they allow them to work where they feel most comfortable while still getting work done!