What at-home jobs are suited for people with a disability?
In the United States, 26% of adults have some kind of disability. That amounts to 61,000,000 people! And sadly, it seems harder for someone with a disability to get a job, as in the U.S. people with a disability saw an employment rate of only around 18%. Staggering numbers, but it is the bitter truth.
For many people that suffer from a form of disability, remote work has had a great outcome as offices often lack situation-specific accommodations. Luckily, with online work and at-home jobs flourishing, there are more and more available jobs popping up for disabled people at home.
And they're not just the jobs that don't require any special training, but can also be positions that require well educated people that happen to have a physical disability.
At-home jobs, part time or full time, can earn you a decent living if you enjoy working on your own schedule and do not mind being tethered to your computer most of the day.
What kinds of jobs exist for disabled people at home?
There are many legitimate work from home opportunities for people with a disability. This includes customer service, chat operator work and virtual assistant positions. But of course, most jobs with a lot of computer work and a low frequency of meetings can be a good fit.
Most work from home positions require you to live within 100 miles of their main hub, but there are also jobs that can be done fully remotely from all over the world. They can usually be found online.
Benefits of working from home with a disability
The benefits of working from home include the fact that you can work from your own home, so no worries if you need a service dog to get around.
Work from home jobs offer flexible hours that allow you to attend possible doctor's appointments without having to miss work.
Moreover, you will not need to pay for transportation and won't have to worry about commuting costs, or finding an open parking spot.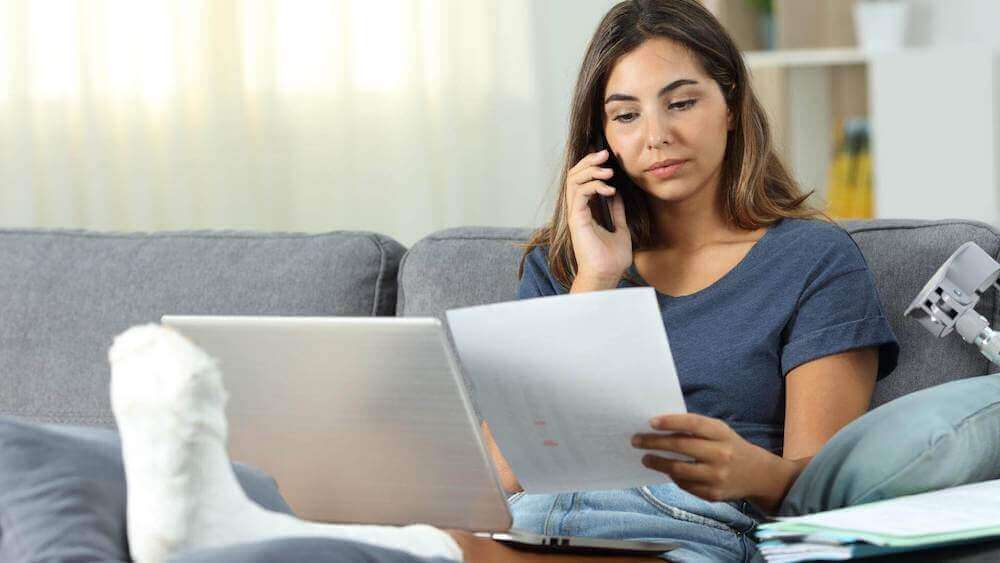 Apply Now and Become a Chat Operator!
Choose your own time and place to work
No prior work experience required
Work from a mobile, tablet, or PC
Interested? Experience a unique freedom and complete flexibility in your workday. If you're looking for an easy job that allows you to work on your own terms, this is an opportunity you shouldn't miss!
Start Your Application Process
Applications are handled within 24h
Examples of companies that promote workforce diversity
Aside from being more comfortable, jobs that are fully remote & work-from-home can offer additional benefits. As an example, the company Accenture offers 401(K) plans and Vacation Paid Time Off. They have a diverse employee base and flexible working options.
The company also offers a health insurance policy, group legal insurance, and travel privileges. Its headquarters are in New York and has over 22,000 employees, including more than 1,600 people with disabilities.
One of the most popular industries to work for disabled people is in computer science and sales. But be aware, these jobs are highly competitive. The salaries and benefits packages offered by these companies are attractive.
IT organizations can offer assistive technology and other benefits that help employees with a disability succeed. For instance, GitHub is known for hiring many veterans with disabilities and their recruitment process is said to be really easy.
Have a disability? Check out Remotely4u's at-home job!
Regardless of your abilities, there are numerous work from home opportunities in multiple industries. We currently have a job vacancy for text-based chat operators.
At Remotely4u we recruit people that want to work as chat agents. Our clients are operating online fantasy chat platforms, where good employees are seen as the backbone of the organization.
Their text chat operators help thousands of lonely people every day to have a more meaningful everyday life by expressing themselves online with anonymous fantasy characters.
We are always looking for talented remote chat operators to join the team. You can work as little or as much as you want. The income is not a fixed fee, but is based on the amount of messages you handle.
You will chat about everything from everyday life, such as sports or the weather, to dreams, fantasies, and more explicit topics. An open mind is needed.
As a chat agent you will:
Be 100% anonymous (text only, so non-voice and no video)
Work independently and with full flexibility
Earn more depending on how often you work
Help those who need someone to talk to
Interested in the remote job we have to offer?
In conclusion
If you have a physical disability, you might not even have to look for a job specifically for disabled people. Any online job might be a good fit. But even if you do start searching, there are several online companies that are welcoming disabled people to their workforce.
Those with a mental disability can find an at-home job in call centers, doing data entry or in chat-based customer service. These jobs typically pay $12-$16 per hour. The minimum requirements for these kinds of jobs usually include high school education or a GED, if they have any requirements at all.
However, while these types of at-home jobs are popular, they might not be ideal for everyone. For example, a person with a severe hearing impairment might not be able to do a job that requires a lot of face-to-face meetings, or at a call center. For these individuals, working from home with communication through text chats might be the perfect option.